Our team of specialist property lawyers & conveyancers can help make your next property transaction a breeze.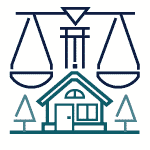 If you're buying or selling, talk to an expert first.
Landmark Legal have experienced Property and Conveyancing Solicitors to help with all stages of property transactions. Whether you are developing land or buying or selling a: home, unit, vacant block, strata title, commercial real estate, or rural property.
Landmark Legal can offer advice in the following areas:
Drafting and reviewing contracts
Auction Contracts and purchases off-the-plan
Cost appraisal including stamp duty, GST, and disbursements
Tax considerations and asset protection
Property title
Property tenancy including joint tenants and tenants in common
Statutory warranties, contract conditions, and special conditions
Section 66W certificates, cooling-off period, and deposits
Put and call options
Retirement Village purchases, leases, and service contracts
Dispute resolution and litigation
Commercial property including leases
Building contracts, owner builder issues, and the Home Building Act 1989
Liaison with financial institutions
Execution of contracts, exchange, and settlement
Adjustments to the purchase price in regard to rates and allowances
Advice for first home buyers
Preparing Powers of Attorney and registering with Land Registry Services
Advice in regard to easements and covenants on title searches
We also work extensively with property investors and developers. From simple renovations and flip scenarios to small townhouse and unit developments, and including larger residential sub-divisions.
Call to discuss your property and conveyancing requirements.